Open the URL Shortener tool and click on Add Short URL button: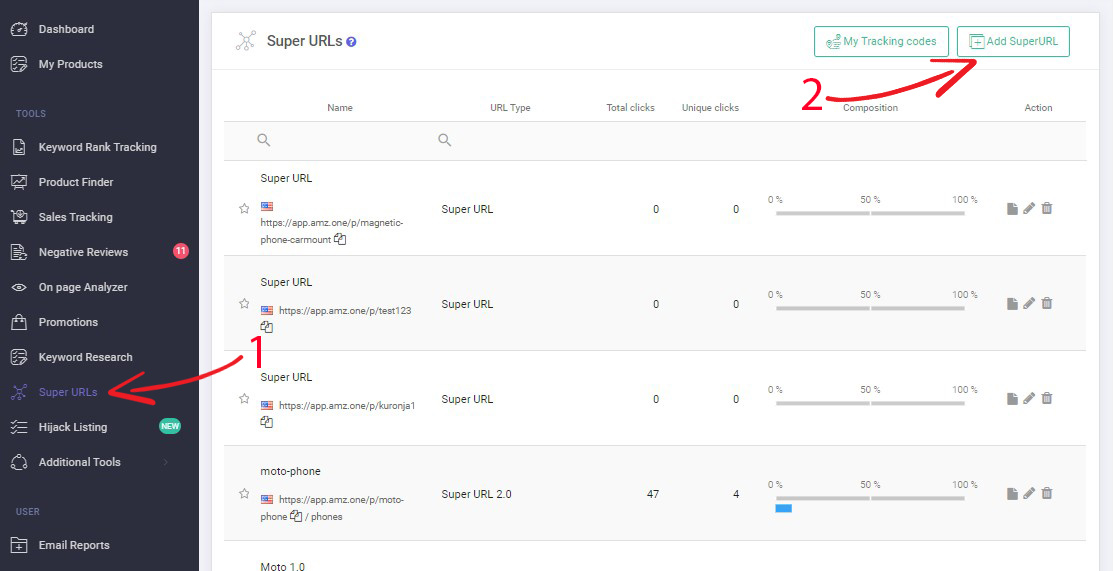 Select the type of your Short URL:
Review URL
Send customers to the 'Create a Review' page for your targeted ASINs with the five-star rating already pre-filled.
Add to cart URL
Send customers directly to the 'Add to Cart' page of your product on Amazon. Great when you are running ad campaigns on social media where people are interested in buying your product.
Plain Amazon URL


Simple redirection link to your Amazon product listing (without Short URL modifications). Get full statistics and embed a pixel for retargeting purposes.

Plain URL


Redirect link for any non-Amazon-related URLs. Great for blogs, articles, and personal web store. By embedding a pixel you will be able to track visitors and continue your marketing with them in other places.
Fill in the fields necessary to generate the link:
Name field:
The Name field is for you, so you know what for is that Short URL in the list of all Short URLs. Only you can see it and you can put there anything you like.

Slug:
Slug is the ending part of the URL, for example, in www.amz.one/p/iphonemask word iphonemask is the slug. You can leave it blank and we will generate a random one. Please note that you can not change the slug later. Also, that word must be unique so if somebody else used it before, you can not.

Associate tag:
Use Associate tag so you can group/filter Short URLs later per that tag.

Merchant ID:
For Merchant ID, please check here:
https://help.amz.one/general-and-troubleshooting/find-merchant-id
Can be left empty. Use it if there are multiple sellers with the same product/ASIN.

ASINs (list):
If you generated promo codes just for one variation, select just that ASIN. Otherwise, select all.

Keywords:
We will rotate between selected keywords, so you can add multiple keywords. No need to put more than 7-8 of them. There must be at least one keyword in basic Short URLs.

Amazon Affiliate ID:
If you are an Affiliate with Amazon, you can add your affiliate id here and get a sale percentage from Amazon.
To see the URL report, please click on the View report icon next to the Short URL: